Tragedy Strikes in Puerto Rico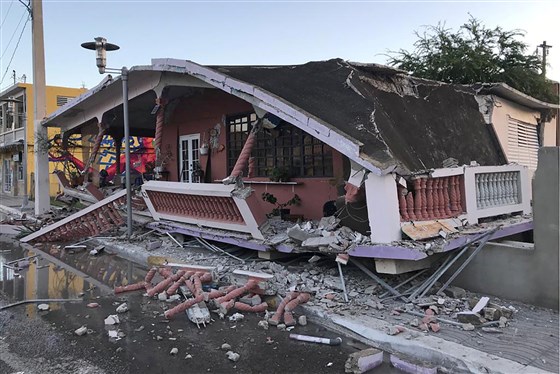 Early Tuesday morning, a 6.4 magnitude earthquake struck Puerto Rico, leaving severe damage in certain areas and killing at least one person and injuring many.
According to NBC News, the earthquake hit at 4:24 am, at a depth of just 10 kilometers. Originally, a tsunami alert was issued for the Virgin Islands as well, but it was later cancelled. A few hours later at 7:18 am, a 6.0 magnitude aftershock hit.
The quake left the island with an abundance of damage. Roads were cracked and lifted, there was an island wide power outage, houses were destroyed, stores caved in, and an iconic landmark, the Guánica Lighthouse, suffered a collapsed wall. The coastal rock that was a popular tourist attraction also collapsed.
A 77 year old man was killed after a wall collapsed and fell on him. This news was presented by the mayor of Ponce, Mayita Meléndez. Approximately 9 people were left injured.
There is no power and no water. Everyone is struggling to live, as there are very few resources. Authorities say there are around 300,000 people with no water service. With almost the whole territory without power, people are not able to turn on the heat or use any gas related appliances.
Hundreds of buildings and houses are damaged and either collapsed or left uninhabitable. Around 150 homes have already collapsed and nearly 700 are severely damaged and on the verge of collapsing. The Immaculate Conception Church and Agripina Seda, a public school, were both incredibly damaged. The school collapsed.
Many people had to be evacuated for their safety after their towns were deemed unsafe. Approximately 400 people were forced to leave their homes and seek shelter in tents at a parking lot. A hospital that became a safety hazard due to the earthquake had to evacuate all of their patients, 80 people total. Hundreds of other people were forced to evacuate and find somewhere to stay that is still safe and stable. Over 2,000 people were put in shelters and many were asked by the governor to sleep in their yards because there is always the possibility of an aftershock and houses collapsing.
It is said that this earthquake was worse than the devastating Hurricane Maria, a category 4 storm that hit two years ago. A Guayanilla resident said, "With the hurricane, you knew when and at what time it would arrive. This, you don't know at what time it's going to happen."
According to CNN, school will not resume until every school building on the island are deemed safe and completely evaluated.
There is a small chance that a doublet will occur, which is when two similar size earthquakes hit the same area. Many families are scared and do not feel safe. Aftershocks continue for days after the incident.
Companies are working to restore power and water for the hundreds or thousands of people that lost it. This devastating earthquake was said to be the biggest one Puerto Rico has had to suffer in the last 102 years.
About the Writer
Maddie Meltzer, Writer
Maddie Meltzer, a senior at Emerson Junior Senior High School, is excited to be a writer for this year's Cavo Chronicles newspaper. She enjoys writing...