Ringing in the New Decade with New Year's Resolutions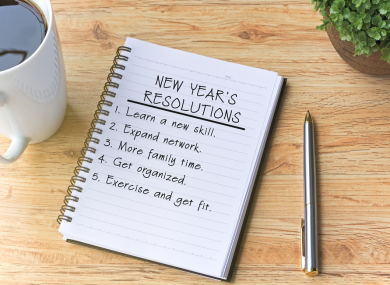 Hang on for a minute...we're trying to find some more stories you might like.
Did you find yourself counting down the final hours of December 31st, yearning for that new fresh start to come as the clock rings 12:00 and joyous shouts of "Happy New Year!" fill the air? 
If you are coming into the new year with personal goals to follow and hope to make it better than the last, you are not alone. Studies show that up to 45% of American adults make at least one or two resolutions each year ("Statistics: Top New Year's Resolutions and How to Keep Them"). In fact, the tradition of creating a New Year's resolution dates back to 4,000 years ago and originated with the ancient Babylonians (Pruitt). In 2019, the most popular New Year's resolutions were to lose weight, exercise more, stop smoking, get a new job, manage stress better, and improve finances. 
Yet even though this has been an ongoing popular  custom for centuries, are people ever successful in staying true to their resolutions? 
According to Forbes Magazine, people are more often unsuccessful in reaching their goals. Less than 25% actually stay committed to their resolutions after just 30 days, and only a low 8% actually accomplish them. 
Nevertheless, students here at EHS still have hope in their resolutions for this year.  The most popular consisted of exercising, and studying more. 
"I would like to focus on removing the negativity and toxic friendships I have," says senior Gianna Mancino. 
If you are interested in successfully following your New Year's resolution here are some tips. Try to start out by making little goals or tiny everyday habits that you know you will be able to follow. These little specific goals are more likely to be achieved than broad ones such as eating healthy or exercising more. Building up these little everyday habits will eventually lead to lifelong routines that are easy to accomplish, much more than larger and out of reach goals. 
Sophomore Brooke Desantis wants to, "Eat healthier in the New Year." Senior Dylan Demagistris also wants to combat negativity this new year and simply, "wants to live a happier, less stressful life." I, for one, have never been able to stick with my New Year's resolutions and have given up over the years. But hopefully these students will remain motivated to outsmart the stats and actually accomplish their New Year's Resolutions unlike the majority of the population. 
About the Writer
Victoria Elek, Writer


Victoria is a senior at Emerson Jr Sr High School. She enjoys writing for the Cavo Chronicles, specifically about both school news and her own...