Losing A Leader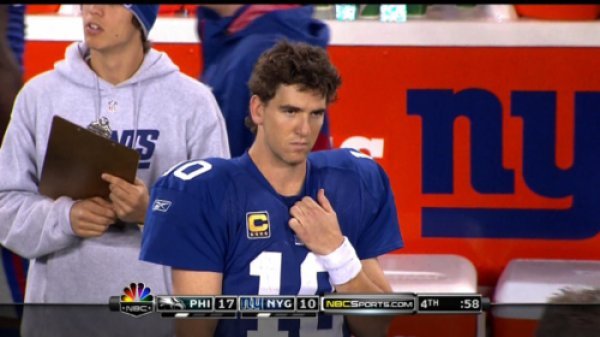 After an insane 16 years as starting QB and a leader, Eli Manning has possibly taken his last snaps ever as a New York Giant. 
Eli, a Giants legend, has a total of 7,972 attempts, 4,804 completions, 60.3 completion percentage, 55,981 yards, 360 touchdowns, and 239 interceptions, all Giants franchise records. He also has 210 straight starts from 2004 to 2017; this is the second longest streak for consecutive starts in NFL history. Other achievements Eli has accomplished is remaining eight in most touchdowns and seventh in most passing yards. According to the Giants website, "Manning won the Rozelle Trophy as the Most Valuable Player in Super Bowls XLII and XLVI. He is 1 of 5 players in NFL history to win multiple Super Bowl MVP awards."
Eli came from one of the most famous football families ever. It all started with Archie Manning, who played QB for the New Orlean Saints after coming out of Ole Miss. Archie and his wife, Olivia Manning, have three sons. Their first born, Copper, was unfortunately diagnosed with spinal stenosis; however, their other sons, Eli and Peyton, followed in their father's footsteps as we know today as two very elite QBs who came through the NFL. Peyton, played for the Indianapolis Colts for 14 seasons and finished off his last 4 seasons with the Denver Broncos. Now the only one left of the Manning dynasty is Eli, and that dynasty could possibly end this season. 
On september 22, 2019, backup Quarterback Daniel Jones became the starter over Eli Manning. This was shocking news due to how long Eli had been the starting QB for the Giants, and is a big reason on his possible retirement from the NFL. In Daniel's first game as a starting QB, he went 23/36 with 336 passing yards and 28 rushing yards and a touchdown. He did pretty well but has a ton of work to do if he wants to fill Eli's shoes.
Overall, the Manning legacy is a one-of-a-kind dynasty that will forever be remembered in NFL history, and it is sad that this could possibly come to an end.
About the Writer
Joey Sabatella, Writer
Joey Sabatella is a senior at Emerson Jr Sr High School who enjoys writing for the Cavo Chronicles. He loves writing features and is constantly thinking...