Christmas Getaway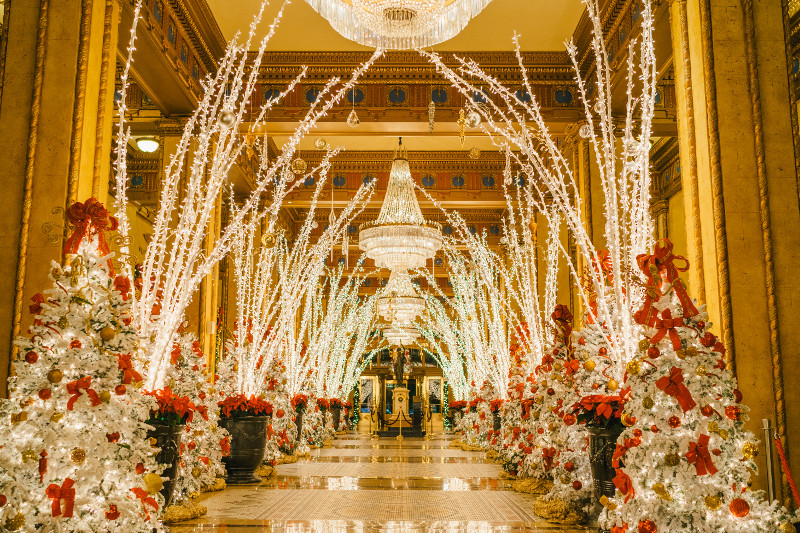 Many families travel to different destinations over Christmas break to escape their hometown for a little bit and celebrate the holidays in a fun and different way. Some families prefer warm destinations to get out of the cold, and others like to stay in the cold, but travel to new places.
Travel Channel provided a list of 8 Christmas getaways for families to enjoy. First off is the Gaylord Opryland Resort & Convention Center in Nashville, Tennessee. This winter wonderland offers a "Country Christmas Package" between November and December. The package includes gingerbread decorating, snow tubing, ice skating, a slide made out of ice, and tons more. There are even ice sculptures made out of two million pounds of ice to depict classic Christmas scenes. 
Next up is the Resort at Paws Up in Greenough, Montana. If families want to decorate cookies or gingerbread houses, go dog sledding, and get a visit from Santa at the Christmas Eve party, then this is the place for them. Just 35 minutes away from Missoula, the resort offers a Christmas Package and so much more to make the holidays even more enjoyable. Elegant homes and tents are available to further enhance one's experience.
Scattered all throughout the east, Great Wolf Lodge has a Snowland Celebration each year for Christmas time. Countless activities are available, from an indoor snow shower, visits from Santa, Polar Wolf Walk, to North Pole University, where children can earn a 'Snowploma'. If families are lucky enough to reserve a Snowland Suite, they will be provided with the decked out room filled with decorations, including twinkling lights and a Christmas Tree. Kids are tucked into bed by lodge mascots with milk and cookies. 
A Hershey Park getaway in Pennsylvania sweetens the holiday season with festive roller coasters, cookie workshops, and even being able to meet Santa and his nine reindeer! Every weekend, breakfast and lunch with Santa is offered. Just outside the park, there are two miles of a wooded trail filled with a display called "Hershey's Sweet Lights", made of over 200,000 lights that 'dance' to Christmas music. 
Colonial Williamsburg in Williamsburg, Virginia, provides the opportunity for kids to learn about how early colonists celebrated the holidays. There is an astonishing firework show, caroling at the Courthouse, a concert at Governor's Palace, and ice skating. The perfect way to warm up after a chilly day outside followed by a large holiday feast offered at dinner time. 
The Cosmopolitan in Las Vegas, Nevada, has a huge ice skating rink, which is actually the resort's pool, just frozen. A view of the glistening Vegas strip is a perfect way to enjoy an ice skating session. With snow showers occurring every 30 minutes, there is an outdoor firepit to toast marshmallows, make smores, and stay warm. 
For a change of scenery (and weather), Grand Wailea in Maui, Hawaii, still provides Christmas festivities. Santa rides to shore in a Hawaiian outrigger canoe. There is a beautiful 25 foot Christmas tree, lit by the Boys and Girls Club of Maui. Those kids also build a gingerbread house village! Despite celebrating the holidays of the winter months, Hawaii still offers warm and sunny weather-perfect for taking a trip to the beach. 
The Roosevelt New Orleans, A Waldorf Astoria Hotel, in New Orleans, Louisiana, is jaw dropping from the moment anyone walks in. For the holidays, the lobby is decorated with 60,000 glistening lights, almost 50 Christmas trees, many birch trees, and tons of garland. Teddy Bear Tea is offered for children who want to have some Christmas goodies with Santa and Mrs. Claus. They also offer beverages for the adults. A big feast on Christmas day and holiday brunch is a tradition at this beautiful hotel.  
Whether one wants cold or warm weather, there is always somewhere fun to celebrate the holidays. These eight destinations provided by Travel Channel offer a broad variety of different scenery, activities, and many other fun things to do. 
About the Writer
Maddie Meltzer, Writer
Maddie Meltzer, a senior at Emerson Junior Senior High School, is excited to be a writer for this year's Cavo Chronicles newspaper. She enjoys writing...