Jersey City Tragedy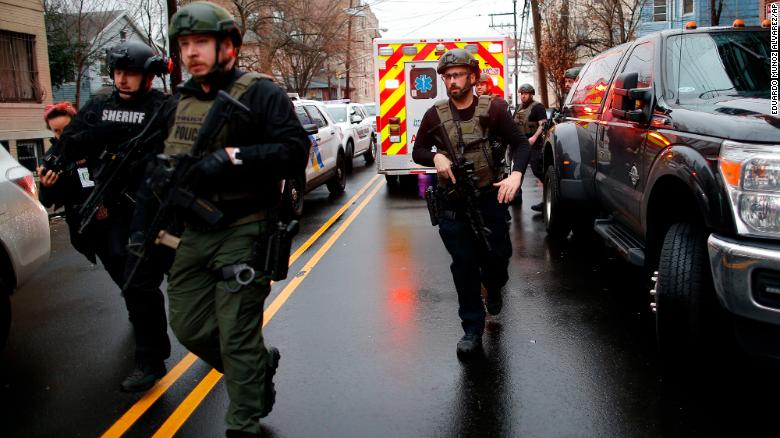 On December 10, 2019, a distressing shooting happened at a kosher grocery store in the Greenville section of Jersey City, New Jersey. 
This attack on Jersey City residents and police officer(s) was known as an act of domestic terrosism, which was apparently driven by anti- semitism and hatred of law enforcement. At the beginning of the attack, the two shooters, Francine Graham and David Anderson, were found to be near a cemetery in Jersey City. This is where they committed an act of hatred of law enforcement when they killed Detective Joseph Seals. 
After, Anderson and Graham ran over to a nearby Jewish Market where they killed three more people. This was thought out to be an act of anti-semitism due to one of the shooters, David Anderson, being a part of the Black Hebrew Isarealites movement.The Black Hebrew Isarealite movement is a way to preach on the streets about what they believe in.
According to CNN, "Anderson, 47, and Francine Graham, 50, went on a shooting spree and had an hours-long gunbattle with police Tuesday that left four people dead three people in the market and a police officer."
Before this shooting, Francine Graham had no criminal record, she worked for 20 years as a nurse's aide at Terence Cardinal Cooke Health Care Center in Manhattan. On the other hand, in 2009, David Anderson was accused of a domestic-violence incident because of Anderson threatening to kill his girlfriend at that time. Also, from another time in both 2003 and 2007, David Anderson was arrested for unlawful possession of weapons. In both of these times, he was found pleaded guilty and sentenced to jail. 
Everyone who knew Francine Graham claimed they were shocked that she committed this terroristic act. According to CNN, her family had no comment on this situation regarding her daughter. However, the neighbors of David Anderson stated their point of view about what they thought of him. His neighbor stated, "' like he was mad with the world all the time."
In the end, David Anderson and Francine Graham were caught but not until it was too late. 
About the Writer
Louden Mazzeo, Writer
Louden Mazzeo is a freshman at Emerson Junior Senior High School. He is one of the journalists who loves to write about sports. You can find him on a wrestling...