High School Football Seasons Come to an End in NJ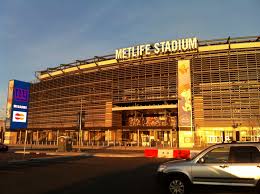 Hang on for a minute...we're trying to find some more stories you might like.
This past weekend, high school football teams across the state competed in their regional championship games for the trophy in different stadiums throughout New Jersey. 
The New Jersey State Interscholastic Athletic Association (NJSIAA) hosted the first six games at MetLife Stadium in East Rutherford for football teams that have won their sectional title, and battled it out to win regional titles as well.
There were six games played in the span of a weekend at the stadium; both catholic and public schools played out intense games for the trophies. Ten teams from North Jersey played in five games on that last weekend in November.
From smaller schools (Groups 1&2), we saw our own rivals, Park Ridge, play Boonton on Friday, November 29th. Park Ridge battled it out for the 28-21 win over Boonton. For the Group 2 face off, Verona played Lyndhurst. The game was a total blowout with Verona winning 41-0 over Lyndhurst.
The bigger regional schools in North Jersey (Groups 3&4) also faced off in two games on that Friday and Saturday. From Group 3, Ramapo played Parsippany Hills for the regional school championship. Ramapo won that game 38-21. A group 5 game was played, pinning undefeated Union High School against Ridgewood High School. Ridgewood completed the ultimate upset, winning 41-37 against the powerhouse of Union.
In addition to public schools playing for a state title, catholic schools also competed. The non-public group 4 title was taken home by St. Peter's Prep in style, with a blocked field goal (that would have won Bosco the game) being returned for a touchdown. The final score was 21-14.
The remainder of the South and Central Jersey teams played their conference finals just this weekend at the SHI stadium at Rutgers. Spectators say the most thrilling game was the non-public Group 3 game against DePaul and Mater Dei (NJ). DePaul came in clutch with a defensive effort that stopped a two-point conversion from happening. The final score was 27-25, with DePaul taking home the trophy after years of battling against the powerhouse Mater Dei for a trophy. 
All the rest of the games were as usual, with the group 5 title going to Williamstown regional for their three-peat title. Other regional and public schools played at Rutgers as well.
This year showed a lot of action for high school football here in New Jersey. Whether it was an upset or a spectacular, high-stakes ending, teams fought hard all the way to try and end up on top.
All scores and team names came from: New Jersey High School Sports – NJ.com
About the Writer
John Avery, Writer
John Avery is a junior journalist for The Cavo Chronicles at EHS. He plays soccer and runs track, but in his free time he is definitely out fishing. Overall,...