Winter Activities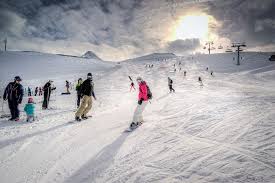 The winter is upon us and many people are finding themselves not knowing what to do with the cold changing weather. Although the cold weather restricts people from certain activities, there are a wide range of activities open for people to do in the winter.
Some outdoor activities you can do in the winter are skiing, snowboarding, and even going to a local town or park to see the Christmas tree. At Emerson Junior-Senior High School, there are currently 11 ski and snowboard club members who take a bus to Mountain Creek, an outdoor ski and snowboard resorts and use the mountains to carry out their clubs activities.
 Another activity that can be done both indoor and outdoor is ice skating, a very popular activity to do in local towns and even in the city with an outdoor rink. Many people bundle up in layers of clothes and attend these places, which make it a popular activity in the winter. 
Some of the teachers and counselors at Emerson JR. Sr.  High School stated their favorite winter activities. Kelly Reidel and Karen Biondo, counselors at Emerson Jr. Sr. High School, shared their favorite winter activities.
"I love being at home with my 2 kids, having a fire in the fireplace, watching a Christmas movie (even if it's not Christmas time) and baking cookies," shared Riedel. 
"Since it's dark early and really cold outside, my favorite activity to do with my family is Friday night game night. We play all different games, monopoly, life, checkers, uno etc.  We are all super competitive and take each game really serious!" said Biondo. 
Jenifer Haveman and Elyse Vitale, teachers at Emerson High School, likes to do different winter activities.
"I love hiking in the woods in the snow.  It's so peaceful and quiet…lots of time to think and just enjoy nature," said Haveman. 
"The best winter activity is actually one of my favorite spring/summer activities: walking outside.  Even when it's freezing, I bundle up so you can barely recognize me and take a walk," said Vitale. 
The winter has just begun and there are many weeks left to do winter activities that you, family, and friends can enjoy!
About the Writer
Eric Clouse, Writer
Eric Clouse is a senior journalist at Emerson Jr. Sr. High School who likes to write about school news and sports. He is very excited to create this newspaper...