Christmas Presents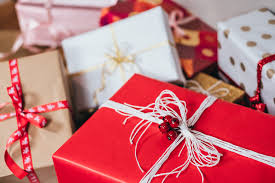 Hang on for a minute...we're trying to find some more stories you might like.
Winter is right around the corner which only means one thing …Christmas! When going into the holiday season, parents and family all around have to be prepared to get presents for their children. Finding presents can be very stressful and expensive since every year children want new things. 
After several interviews with students from ages 10-17 and asking them what their most wanted present for Christmas is, the following responses were recorded: 
Kiley Sweeney, age 15:
"The most important gift that I want is a new pair of Uggs." 
Lilly Gidea, age 15:
"I would like vans for christmas."
Charlotte Newman, age 15:
"I would like clothes and shoes."
 Joey Sabatella, age 17:
"The new Call of Duty is number one on my list." 
Julia Elek, age 15:
"I want Air-pods."
Meadow Garcia, age 8:
"I want a phone for Christmas."
Andie Garcia, age 2:
" I want toys."
Cienna Garcia, age 12:
"I want a puppy!"
Gavin Sapontzis, age 16:
"I would like Airpod Pros."
Dylan Covello, age 16:
"I want Yeezys or a MacBook."
 The above interviews should give parents a good idea of what the most popular items are that children want for Christmas this year. This year, most children from ages 8-15 indicated that they wanted Apple devices as their big gift. However, children from ages 15-17 wanted more simpler gifts like a pair of shoes or an Xbox game.
An article published by USA Today says that hydroflasks, scrunchies, airpods and stainless steel straws are the most popular gifts for female teenagers. Additionally, an article published by Nyma stated that Call Of Duty: Modern Warfare, Portable Charger, JBL Flip 4 Portable Speaker and Air-pods are stated to be the most popular items teenage boys want for Christmas. 
Every year, the trends change and so do kids ́ interests, which makes it difficult for parents to buy presents for their kids – especially in advance of the holiday. After research and several interviews, hopefully this can serve as a resource parents can turn to when looking for purchase gifts.

About the Writer
Lilly Gildea, Writer
Lilly Gildea is a sophomore at Emerson Junior Senior High School, who enjoys writing articles about things going on around the school. In her spare time...