NHL 2019-2020 SEASON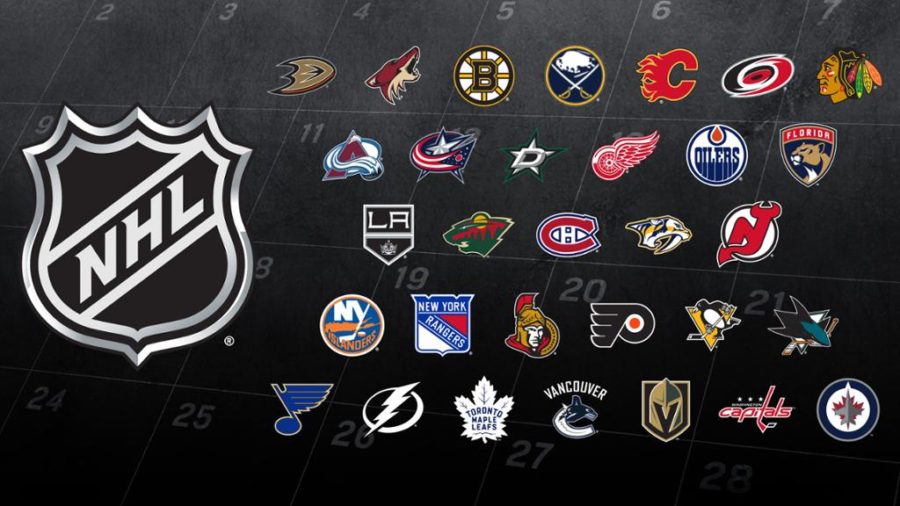 The 2019-2020 NHL season started on Wednesday, October 2, 2019, and will end on Saturday, April 4, 2020. There are 1,271 games in total and 82 games per team. There are 31 teams. The teams and their current records are as follows:
(Wins-Losses-Ties)
Anaheim Ducks (8-6-0)
Arizona Coyotes (7-3-1)
Boston Bruins (9-1-2)
Buffalo Sabres (9-2-2)
Calgary Flames (6-6-2)
Carolina Hurricanes (8-3-1)
Chicago Blackhawks (3-6-2)
Colorado Avalanche (8-2-1)
Columbus Blue Jackets (5-4-2)
Dallas Stars (5-8-1)
Detroit Red Wings (4-8-1)
Edmonton Oilers (8-4-1)
Florida Panthers (5-3-4)
Los Angeles Kings (4-8-0)
Minnesota Wild (4-8-0) 
Montreal Canadiens (5-4-2)
Nashville Predators (8-3-1)
New Jersey Devils (2-5-2)
New York Islanders (8-3-0)
New York Rangers (4-5-1)
Ottawa Senators (3-7-1)
Philadelphia Flyers (7-3-1)
Pittsburgh Penguins (8-5-0
San Jose Sharks (4-8-1)
St Louis Blues (6-3-3)
Tampa Bay Lightning (5-4-2)
Toronto Maple Leafs (6-5-3)
Vancouver Canucks (7-3-1)
Vegas Golden Knights (8-5-0)
Washington Capitals (9-2-3)
Winnipeg Jets (6-7-0)
NHL commissioner Gary Bettman has announced some NHL rule changes for the 2019-2020 season. According to him, there will now be 3 categories of video challenges now. The first two will stay the same, for the goaltender interference and the offside. The new one will be about missed calls in the offensive zone that lead to goals. Now, the hand passes or pucks hitting the netting will not be allowed for legal goals. With all of these new rules, it's shaping up to be an interesting season!
About the Writer
Sean Salcedo, Writer
Sean Salcedo is a senior at Emerson Jr/Sr High School. He plays varsity goalie for the school soccer team. He also plays center for the varsity ice hockey...