New Coach, New Responsibility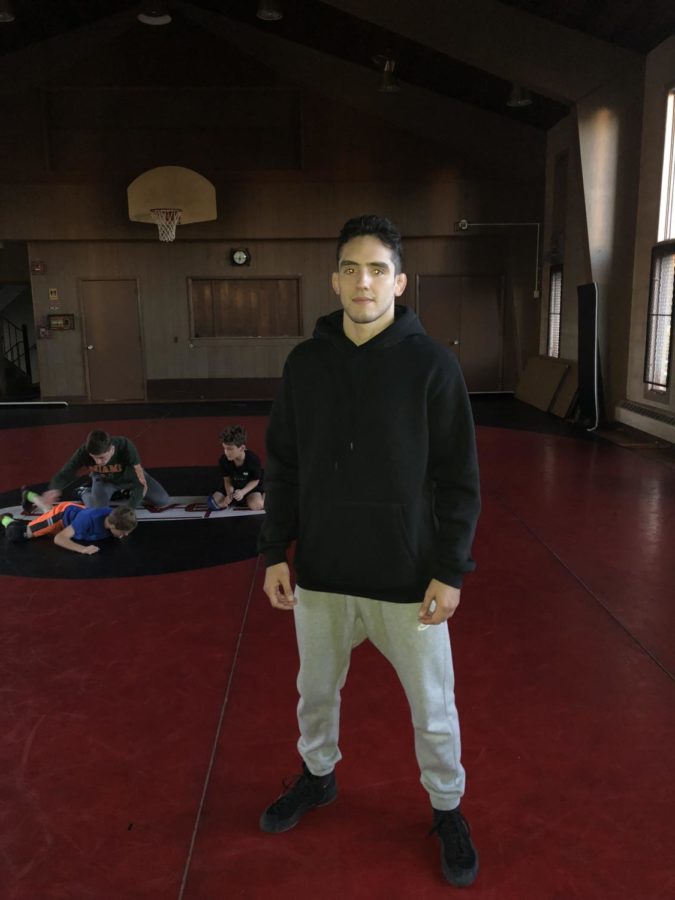 Due to a coach leaving after the 2018-2019 season, the Emerson Park Ridge wrestling staff was left to search for a new coach in the upcoming 2019-2020 season. 
Wrestling has always been the top sport at Emerson Junior-Senior High School, and it's very important to have a qualified coach coaching the wrestling team. The head coach, Stan Woods, and the assistant coach, Joe Mazzeo, recruited a new coach since the other assistant coach left for another job. This new coach, Anthony Geraldo, is a North Bergen native and is possibly one of the best wrestlers to ever to come out of the state of New Jersey. He is a former two time state champ and four time state placer, who finished his excellent wrestling career at Rutgers University. 
Anthony Geraldo was willing to answer some questions and share his excitement for the upcoming season:
What is your name and how old are you? 
"Anthony Geraldo and I'm 23 years old."
Why did you want to coach for the Emerson Park Ridge wrestling team? 
"Cause ever since I was a little kid I always wanted to be a good wrestler so now that people are asking me to coach and stuff it feels good and satisfying, I'm very grateful for this opportunity of teaching such a good team like this, I can't wait to help the kids out."
Do you feel any pressure being the new coach, due to how successful the team has been throughout history?
"No, I'm not nervous I feel good having Mazzeo amd Woods here helping me out, they've been part of the program for a long time they have helped me transition smoothly into coaching."
What do you think will be the hardest thing at being a new coach for such a good team? 
"I think the hardest thing is going to be adapting to the other kids styles of wrestling in the room and trying to help them get better."
How long have you been coaching for?
"I've only been coaching for around a year."
What have you accomplished in the sport of wrestling throughout your career? 
"4 time State placer, 2 time State champ, I won Greco Nationals and made the Greco Cadet World Team, 2nd at Cadet Nationals for the world team trials, 4 time District, Region and County Champ."
Why did you start wrestling and at what age did you start?
"I started wrestling because my mom talked to others and became convinced that it would be a good sport for me. After she had asked me if I wanted to and I said yes, I started wrestling at 8 years old. Ever since that day I fell in love with it."
Did you wrestle in college and if so what college?
"Yes, I wrestled for Rutgers. I placed at the Big Ten Tournament, so I am an NCAA qualifier."
What traits will you be bringing to the EPR wrestling team and how will you help benefit the team? 
"I'm bringing in hard work and I will benefit the team by pushing them to be the best they can be."
Other than wrestling and coaching what do you do in your free time? 
"I like hanging with my dog, eating, sleeping, hanging with friends, and playing Xbox. Pretty simple things but I make the most of it." 
The Emerson Park Ridge wrestling team has a very good reputation and has been known throughout the state of New Jersey since Stan Woods started coaching 51 years ago. Throughout his coaching career, Woods has had over 750 wins and is getting close to 800 wins, making him the winningest coach in the whole state of New Jersey. This landed Stan Woods in the national wrestling hall of fame. Assistant coach Joe Mazzeo has been there for around 25 years, having over 300 wins as an assistant coach and making him one of the top coaches around. These coaches have made the EPR team a power house since back in the day, and bringing in a new coach will be a lot different since the other assistant was there for almost 8 years. 
Anthony Geraldo will have the responsibility of being one of the new coaches for this upcoming season. He will need to coach the lighter weights, adapt to their styles to help them out, get them in great shape by pushing them to run more and lift more weights, etc. He is assigned to coach the lighter weights because he is not too heavy himself and will have to take over the missing spot from the coach who had left, since that used to be his spot. Anthony will be perfectly fine due to how successful he was as a wrestler. This wrestling season is going to be a very fun one to watch with all the new talent  brought to the program. Good luck to the new coach this season and go EPR!!!
About the Writer
Logan Mazzeo, Writer
Logan Mazzeo is a senior at Emerson Junior Senior High School. He is a journalist who writes about sports and activities. In his free time, you can find...