The Opening of the American Dream Mall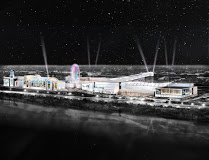 Hang on for a minute...we're trying to find some more stories you might like.
The American Dream, located in East Rutherford, is slowly opening in 2019 as the second largest mall in America. The construction of the mall started over 20 years ago, but went under some difficulties with funding and lawsuits from the NFL due to its close proximity to MetLife Stadium.
According to CBS News, the mall not only has stores and places to eat but also has attractions such as the Nickelodeon theme park, an indoor hockey rink, and indoor ski and snowboard slopes. Tickets for the theme park have already sold out.
To go along with the amusement park and the other attractions, the owners of the mall are planning to build high end hotels around the mall so tourist and other people can stay and visit for longer.
The mall will also have high-end stores such as Gucci, Doir, and Tiffany & Co. and restaurants and other food places such as the Hard Rock Cafe and a three story high candy store called ITSSUGAR. 
A fun fact about the American Dream Mall is that they will have a 55 foot sculpture called "The Tree of Dreams" which is equipped with over 75,000 LED lights which can be controlled by all the visitors at the mall through the American Dream App.
The owners of the mall planned and painted parking spots for 33,000 people and also opened up a new bus line that travels directly from New York city to the mall. The tickets for the bus are $9 each way, which is cheaper than taking the train.
Over the course of building the mall, the owners of the mall changed twice. It was initially built and decorated with a pattern of bright colors by a company called Colony Capital. Now, it changed to an all white color and is now owned by the company Triple Five Group. 
The building is announced to be completely open and functioning by March of 2020 by Business Insider. Many people in the tri-state area, as well as outside tourists, are very excited to come and experience the American Dream Mall. 
About the Writer
Eric Clouse, Writer
Eric Clouse is a senior journalist at Emerson Jr. Sr. High School who likes to write about school news and sports. He is very excited to create this newspaper...