Cheerleading: It's a Sport!
Hang on for a minute...we're trying to find some more stories you might like.
Cheerleading has been a huge part of the football season at Emerson Jr. Sr. High School for a very long time. It is more than meets the eyes. The girls show up every game ready to go with their cheers and dance routines to help cheer on the boys and help them win their games. Today  Cheer is no joke.  
A common misconception is that cheer is just jumping around and shaking pom poms. "It is so much more" according to senior cheer captain Hailey Lenino.  "We practice three times a week for about 2 and a half hours." 
Cheer is filled with long practices and endless days of hard work and dedication. "We had to recite pep rally dances like happy and Monday night. We worked really hard to make sure all our stunts would hit for both the opening dance and halftime routine. Over the summer we all got together to make the signs for the carwash. This was great because we worked together and got to learn more about each other."
What makes football cheer difficult is learning how to move seamlessly as one group. It is challlenging to teach 20 cheers to 20 different girls, but even more challenging is to do the cheers and or routines in rain or snow in front of a huge crowd. Competition is a more physically challenging sport competing for first place and doing an amazing routine with stunts, tumbling, and jumps on the mat for the judges to score. Overall, cheerleading is a difficult sport that a person must be willing to work hard to do.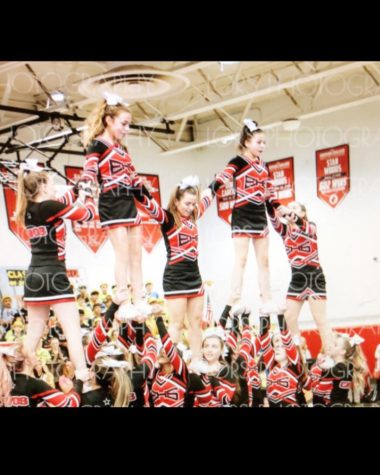 About the Writer
Julia Merrill, Reporter
Julia is a staff member at Emerson Jr. Sr. High School. She is a varsity cheerleader. In her free time she enjoys spending time with her friends and family,...