Fantasy Football Favorites: Week 3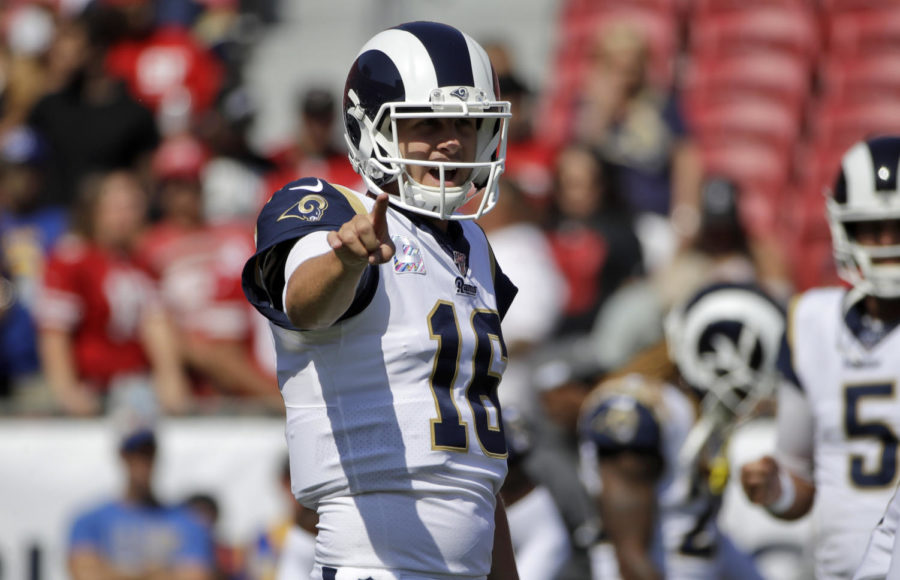 During the fall and winter season, Emerson Junior-Senior High School students make a top five list of fantasy football players before they draft online, which allows them to make money. 
Students make a record of players before they draft their team for people that they would like to draft. They make this list so that it would help them make money in the long run at the end of the football season. According to Bleacher Report, most people's top five through week 3 and 4 include "Alvin Kamara, Christian McCaffrey, Patrick Mahomes, Deandre Hopkins and Travis Kelce." 
Fantasy football is a game where people are general managers of a football team. They draft a team and place bets each week or a bet for the whole year. This game allows people to make money and rewards towards the end of the season. During fantasy football people have to pay attention to the football players bye weeks so that one does not start the wrong player. There are two types of fantasy football games in which you can draft and start one quarterback, two running backs, two wide receivers, one tight end, one defense, one kicker and a bench squad or you can start two quarterbacks and the rest would be the same. 
Anthony Paino, An EHS sophomore, thinks his top five is exceptionally good and has only one on his actual team he had drafted that helps him make money. 
"Lamar Jackson. He is pretty insane. Pat Mahomes. Definitely Chritain McCaffrey. He is number three. Michael Thomas. He is really good and Alvin Kamra is number five. The consitly are performing and are putting up big points every week and are top five players in their position which makes them the top five on my list," he said. 
An EHS senior, Nick LaForge, claims his top five is very good, which has brought him to 2-1 on the season. He has only one of the players on his team and is trying to trade for the rest of them. 
"I think Kamara is really amazing. Patty Mahomes. McCaffery has been amazing. Julio Jones has been very consistent and then Deshaun Watson has been sick. Those are my top five as of right now," he said.
Another EHS senior, Eric Clouse, has most of the same people in his top five and has some on his team that has given him a 3-0 start so far to the fantasy football season.
"Mark Ingram is doing really well with the ravens. Dalvin Cook who is a steal and a half. McCaffrey is always a steal. Mahomes. And Amri Cooper who is a star wide receiver. They show consistency and score a lot of points. They don't get hurt often. By the look of their points, their work ethic is very good for fantasy which gives them all a top five spot on my list," he said. 
Additionally, fantasy sports has millions of users that play the game. Most of the users, 80% of them, play fantasy football. Other than having jobs while being a student in school, fantasy football can help people make money in a very easy way. According to the Sports Business Daily, "More than 59 million people played fantasy sports in 2017, according to the FSGA; 80% of those played fantasy football."
Fantasy football as a whole makes billions of dollars per year. Fantasy Football  makes all this money when people bet online. They do this on all of the fantasy football apps or just normal bets in person that use cash. According to forbes, "Added to actual expenditures and ad revenues, the industry amounts to anywhere from $40 something-billion to over $70 billion per year in tangible and intangible activity."
 Overall, the top five players throughout these first 3 weeks are Patrick Mahomes, Alvin Kamara, Christian McCaffrey, Lamar Jackson and Michael Thomas. Additional top 5 players that are used throughout these students are Deshaun Watson, Mark Ingram, Julio Jones, Amari Cooper and Mark Ingram.