Successful Club Fair at EHS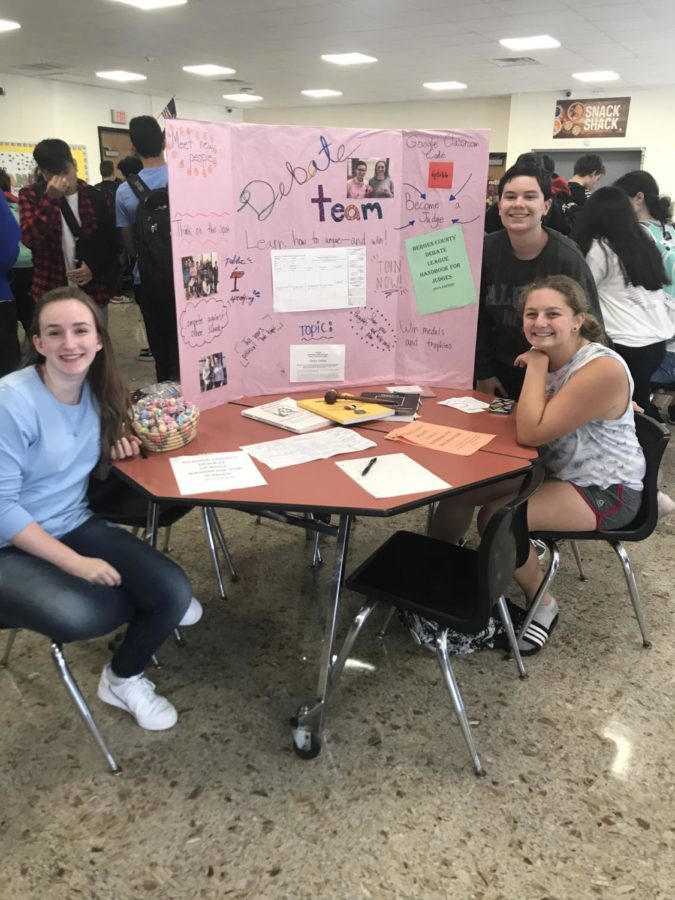 Students attending Emerson High School went to the Club Fair to be introduced to the large, interesting selection of clubs that are offered, and signed up for a varied selection of activities. 
Clubs benefit students by providing roles of responsibility that teach them important lessons and prepare them for the future. Managing clubs and club events give students important career skills that they need. Also, a wide variety of clubs guarantee something of interest students with many different passions. These clubs encourage school spirit in those with unique interests. They play an important role for students in having impressive college applications. Colleges like to see students spending their free time on productive interests and activities. 
  The clubs offered were manned by students, often in leadership positions in the club, and the club advisors. Clubs such as the art club set up creative displays to showcase the club's features. These intricate displays made by students and advisors played an important role in helping their table stand out. This is an example of how the clubs at Emerson prepare students for careers by giving them opportunities to help manage fundraisers, events, and meetings. Students take a more active role in running school clubs such as student council and peer leaders. Key Club was another popular option, with many leaving the fair with an application. Those interested in Key Club should remember to fill one out and hand it in. Students attending the Club Fair took the time to peruse the available clubs and converse with club members. They had an exciting time joining clubs with their friends and exploring new interests. Many students who had formed clubs were advertising these clubs. Students who run and formed clubs showcased their passion for their ideas and interests. 
Clubs such as the Key Club and Paws For a Cause help students volunteer their time for charities. These clubs have a variety of volunteer opportunities and fundraisers. Of course, there are also clubs for students wishing to pursue their interests and hobbies, such as the gardening club. They help students bond over shared interests and experiences. The wide selection of clubs interested all types of students. 
Many clubs succeeded in gaining plenty of new members for the year. Students looked to benefit from a variety of clubs that enhance their college applications. Investing time and effort into clubs and activities help make students more desirable for colleges. This is why a strong foundation and variety of clubs help students to achieve in their future.
Clubs bring opportunities to students to explore new hobbies and make new friends. The right club can help students to find their passion and future career path. They provide a safe space for students to explore interests and ideas they would not otherwise get the chance to. Clubs and activities are sometimes the only place for students to explore and be encouraged in unique interests they otherwise would not have access to. They are opportunities for students to enjoy pleasant opportunities and outings with friends and peers. Clubs help students evaluate their future plans from what holds their interest and attention versus what does not. They are a good influence to students who need assistance finding their interests. 
Students and advisors put hard work into their displays that turned out very well. Many interesting, colorful displays lined the cafeteria tables. They used their own time to construct these intricate displays to welcome new members into their clubs. These displays intrigued many attending the fair to check out a new club. 
The full list of Emerson High School clubs is as follows. 
For high school students:
Art Club, ASPIRE Volunteer Club, Autism Awareness Club, Auto Shop Club, Cavo Chronicles Newspaper, Cavo Cancer Crushers, Cavo Coders, Debate Club, DECA, E-Sports Club, EHS Gardening Club, Emerson Drone Racing Team, Italian Club, Key Club, Maker Club, Math Club, Paws for a Cause at Emerson, Peer Leaders, RoboCavos, Ski & Snowboard, Student Council, Winter Fitness Club & Track Team, Yearbook Club
For middle school students: 
Art Club, Autism Awareness Club, Cavo Cancer Crushers, Cavo Coders, CIT, Culinary Club, Debate Team, Emerson Coding Club, Maker Club, Mathcounts, Origami Club, Paws for a Cause at Emerson, RoboCavos, Robotics Club, Ski & Snowboard Club, Spring Track & Field, Junior Student Council, Emerson Teen Institute, Junior High Vocal Ensemble.
About the Writer
Olivia Burns, Writer
Olivia Burns is a sophomore and is very excited to write for The Cavo Chronicles. She is a cast member in this year's high school play, Mamma Mia. In...