The "GOAT" Gets Benched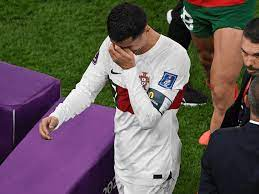 Hey Ronaldo! Hope you are doing well. Did you know you were going to get benched? Did you know that your replacement would go on to score three goals playing ahead of you against Switzerland? Did you think at the start of the World Cup it would get to this point? Do you think you deserve this disrespect when some people call you 'The Greatest Soccer Player of All Time'? Have you listened to the debate of you or Messi? Do you think that Messi will now takw your spot in the "GOAT" debate? Do you think Portugal could win the World Cup without you?
For some background information, in Tuesday's 6-1 triumph over Switzerland, which advanced Portugal to the quarterfinals, Ronaldo had played off the bench. In the victory, Ronaldo's 21-year-old replacement scored a hat trick, a performance that is certain to cast doubt on Ronaldo's future with his country.
All that while Giancarlo Ramos, his replacement in the lineup, scored a hat trick (three goals) against Switzerland. His outstanding performance only enhanced his chances in the starting lineup while Ronaldo's chances slimed. 
The only member of the Portugal team who made it known that Ronaldo wasn't happy about being benched was Bruno Fernandes, who previously played with Ronaldo at Manchester United. A representative of the Portugal team repeatedly tried to yank Fernandes away from Ronaldo, but he appeared ready for the commotion around him.