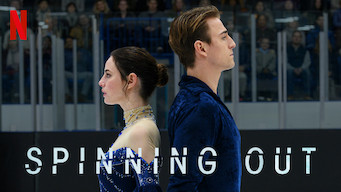 "Spinning out" is a Netflix original series about a figure skater, Kat Baker, played by Kaya Scodelario, who returns to the ice after her traumatizing fall. Once she receives an opportunity to continue her dream, she struggles to keep a secret that can ruin her reputation. 
Outside of skating, Kat has a hard time balancing her job as a waitress, her love, and her mental health. Kat has bipolar disorder passed down from her mother. Throughout the show, Kat and her mother, Carol Baker (January Jones) are always arguing, mostly about how Kat's mom can't stay on her meds. Kat moves out leaving behind her younger sister, Serena (Willow Shields), wanting to prove to her mom that she can skate again. Following in her mom and Kat's footsteps, Serena also has a passion for skating. Kat and her new skating partner, Justin Davis (Evan Roderick) who is in love with her, struggle to find a connection while on ice. 
Once I started watching this show, I never wanted to stop. This show really explores what life is like living with mental illnesses and the intense life of being a figure skater. 
The actors are incredible. They really fit into their character making the show feel real. For example, the scene where Kat realizes she is more confident without her meds is powerful. This makes her stop taking them which leads to Kat getting a manic episode and inability to control herself. This show allows you to connect with each character in a way that many shows can not. 
The ten-episode show aired at the beginning of 2020 and was created by Samantha Stratton and can only be viewed on Netflix.