The Five Worst and Five Best Super Bowl Halftime Shows in History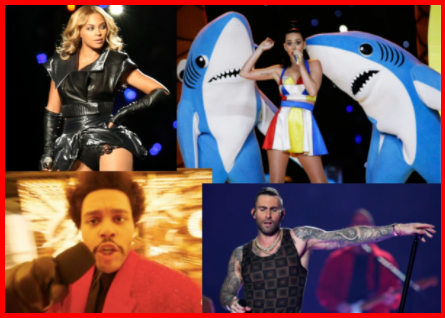 Over the weekend, one of the most-watched live events, the Super Bowl, was broadcasted to nearly every television around the world. In the middle of the culmination of the football season, the NFL invites the most popular performer(s) in the country at the time to entertain the crowd for a short thirteen minutes.
This year, The Weeknd, known for the hit song Blinding Lights, took the stage and used intricate sets, along with a variety of backup dancers, in an attempt to entertain the large audience. Overall, he delivered a mediocre performance (spoiler alert: he does not make it on the list of best or worst).
In the past fifty-five Super Bowls, there have been many hits and misses. Those iconic moments have been immortalized on streaming platforms like Youtube for viewers to rewatch at their will. Here is a ranking of the best and worst shows to date:
THE BEST: Katy Perry; 2015
Thank you Katy Perry for showing us how to do a halftime show properly. In the less than fifteen minutes she had to make a lasting impression, she was able to maneuver a giant lion, dance on a revolving platform, change costumes more than once, and conclude her set with a mesmerizing performance of her hit song "Firework" that she performed while on a silver comet that literally flew around the stadium.
GOOD: Lady Gaga; 2017
Just like Perry, Lady Gaga poured creativity into this project. First of all, she started on the top of the giant stadium and jumped down onto the stage without any hesitation or fear. Then, she used a combination of structures of varying heights coupled with background dancers that enhanced her already amazing performance.
GOOD: Jennifer Lopez and Shakira; 2020
Even though this halftime show generated a lot of controversy, I thought it was one of the better ones. Not a second passed by where I was not entertained by the two icons on the stage. In fact, I felt like I was there with them, just having fun. Plus, this was an epic advance in representation on the national level.
GOOD: Prince; 2007
Patently, Prince got lucky on this night. Had it not have been pouring rain whilst Prince belted "Purple Rain," this production would not have been as perfect. Even aside from that, though, the use of large sheets to cast a silhouette of Prince as he played a guitar solo was a unique touch that definitely piqued my interest.
GOOD: Coldplay, Beyonce, and Bruno Mars; 2015
No offense, but I very much wish that Coldplay had not been included in this lineup. In fact, the band dampened the entire show with his lackluster performance and inability to engage the crowd. When Bruno Mars was brought out, though, everything changed. Then, when Beyonce was introduced, I audibly screamed. The two of them bouncing off of each other by performing renditions of each other's songs was astounding.
BAD: Justin Timberlake; 2018
First of all, it makes me upset that Janet Jackson was completely pulled from all CBS-related advertisements following her wardrobe malfunction, yet, Timberlake, the individual who was actually responsible for ripping Jackson's bra off, was invited to do another full halftime lineup. Even without considering this, Timberlake's performance was subpar, especially since he followed the likes of Lady Gaga. It was more of a concert where the crowd just jumped around for fifteen minutes than it was a show worthy of national attention.
BAD: The Black Eyed Peas; 2011
Yikes, Fergie. The Black Eyed Peas really missed the mark — mainly, they just did not demonstrate cohesiveness through the event. In reality, the outfits were the only saving grace for the band.
BAD: Phil Collins and Christina Aguilera; 2000
This was certainly an interesting mix of entertainers. Overall, their biggest fault was treating the event too casually. Granted, the Super Bowl was slightly less popular at that time than it is today, but it was still a large enough ordeal to warrant some attention to detail from the pair of singers.
BAD: New Kids on the Block; 1991
My critique for this performance includes the fact that the NFL and the New Kids on the Block did not really have a handle on their audience. This was likely not the best venue to have a Disney promotional sing-a-long that featured classics like "It's a Small World." Choices were definitely made on that day.
THE WORST: Maroon 5 and Travis Scott; 2019
There was no creativity poured into Maroon 5's performance. He essentially just stood on a platform (bonus points for the platform being shaped like a giant M, I guess…?) and sang a collection of his radio hits. Just when I thought it could not get any worse, Travis Scott was brought on using a Spongebob visual with a fireball CGI edited onto the television screen. Was anyone else really confused? Or was that just me?
The Super Bowl is a wonderful opportunity for artists to show the world why they deserve to have an enduring career. And, even if a performance is bad, the artist is still benefiting from the fact that they were able to reach millions of people with a single broadcast. After all, all press is good press.
About the Writer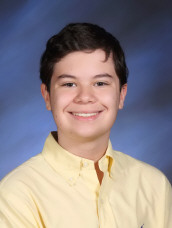 Billy Bollbach, Writer
Billy Bollbach is a tenth grader at Emerson High School who is extremely excited to begin reporting for the Cavo Chronicles. He has a multitude of interests...