Remembering Juice Wrld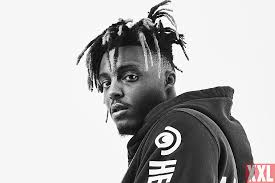 On December 8th 2019, Jarad Higgins touched down in Chicago. It is unknown of what the real story is, but reports say Jarad was carrying 70 pounds of marijuana on the private jet. It didn't stop there though, Juice's jet also contained six bottles of liquid prescription codeine cough syrup and three firearms, including two 9mm pistols, a .40-caliber pistol, metal-piercing bullets, and a high-capacity ammunition magazine. The police were already waiting for Higgins and his crew when they landed, so to avoid prison time, allegedly he took pills to either hide them or to overdose and commit suicide. The real story is unknown, but Juice Wrld did suffer a seizure due to the drugs and unfortunately passed away.  
At one a.m on December 9th 2019, Juice Wrld started to lose conscious and started to seizure. The police were there to administer Narcan and it brought him back to life long enough to take Higgins to the hospital. Unfortunately, the rapper was officially pronounced dead at 3 am, two hours after the seizure. 
Juice Wrld got his fame from a streaming app called SoundCloud. His hit, Lucid Dreams, became number two on the Billboard Hot 100. His second album for Interscope Records, Death Race for Love,  debuted at number one on the Billboard album chart in March.
His girlfriend has mourned his death every day since. She quoted, "You promised to stay alive for me… you were never good at keeping promises but that was just one of your flaws that make you, you. I'm going to make you a promise I won't break." Jarad Higgins suffered from depression and many mental illnesses. To coupe with these illnesses, he medicated himself with harmful drugs. He told his girlfriend that he'd stay alive for her because she brought meaning to him. 
Juice Wrld will always be remembered by his fans. He left a major impact on the rap community and will be missed. 
About the Writer
Giovanni Ramaci, Writer
Giovanni Ramaci is a senior at Emerson Jr. Sr. High School and participates in football and lacrosse. His favorite articles to write about are sports and...