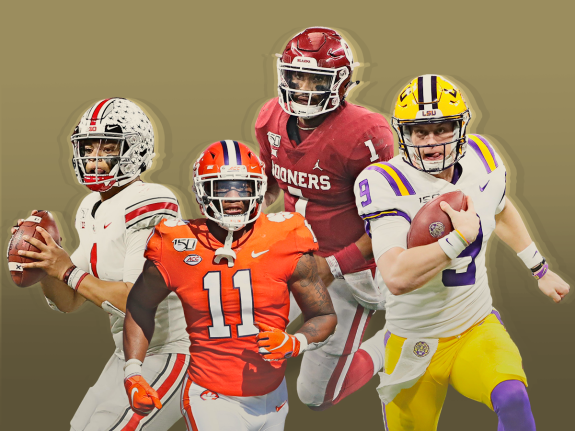 The 2019 college football season has been very interesting. There have been plenty of upsets, big wins, and close games. The rankings have changed from week to week, but now the final rankings are in and it's time for the playoffs. All the awards have been announced for the year as well. The final remaining four are: 1. LSU, 2. Ohio State, 3. Clemson, 4. Oklahoma. The semi – finals games are LSU vs. Oklahoma and Ohio State vs Clemson. The winner of each game will play in the final. 
Number 1 ranked team, LSU, has been hot all season. They have been in the top 10 rankings all year, and as the year progressed they moved into the number one spot. With their Heisman award winning quarterback, Joe Burrow, they are the frontrunners to win it all. But right behind at number 2 is Ohio State. Ohio State has also been on fire this season. With new coach Ryan Day and a great offense, the Buckeyes are right there with LSU. The returning national champions, Clemson, are in the same boat as LSU and Ohio State. Although they have a young quarterback, they still have proven to be one of the best teams out there. All three, LSU, Ohio State, and Clemson, are the last of the undefeated teams. In at the number four spot is Oklahoma, who has only one loss this year. They are known to be a college football powerhouse in the past years. 
With the season coming to an end, everyone awaits for the playoffs. It's a great time and everyone enjoys watching college football, especially during  the playoffs.