A Walk-Off Win against Waldwick!!
Hang on for a minute...we're trying to find some more stories you might like.
Last Wednesday, the Emerson JV Baseball team defeated their new rivals, Waldwick – thanks to a game-winning RBI by Gianni Mandile. The Cavos braved through unseasonably cold weather to make a comeback after a crushing game the last time they played Waldwick.
The first inning started off shaky for the Cavos. Sophomore pitcher Ryan Pincus got the nod and gave up two runs on two hits, an error, and two walks. Fearing another crushing defeat against Waldwick, the Cavos knew they needed to turn it on in the bottom half.
They had a response for the ages! Emerson scored a whopping six runs early against Waldwick, setting the tone. The inning featured an RBI Double by second baseman Scott Leuck, an RBI Single by Center Fielder Shane McCarroll, and an RBI Double by Ryan Pincus. Waldwick also made three errors in that inning.
From there, Ryan rebounded from this shaky inning and did not allow a single hit for the next four innings.
"It felt really good to be back out on the mound after we had a few rained out games," Ryan stated.
However, in the seventh and final inning, Waldwick persevered. They beat Ryan for four runs, tying the game. It looked as if Emerson was going to suffer another heartbreaker against Waldwick.
The Cavos were fired up headed back into the dugout. They not only needed this win badly, but deserved it as well.
The bottom of the seventh began, and in a seven pitch battle, Junior Ian Tarabocchia ripped a line drive single into right-center. Sophomore Ryan Gugliemi pinch-ran for him, representing the winning run at first.
"
"I was thrilled to score the winning run. This game was my favorite baseball memory by far.""
— Ryan Gugliemi
Aidan Patterman went ahead to lay down a perfect sacrifice bunt, moving Gugliemi to second. It was followed by a hard liner back to the pitcher by Freshman Anthony Sturm, which came right out of the pitcher's glove. Sturm was out at first but Gugliemi moved over to third.
For the biggest at-bat of the season, out came Gianni Mandile. After fouling off a few pitches, he ripped a hard ground ball to the third baseman. His full out sprint down the line caused the third baseman to rush his throw and throw the ball away! Emerson was victorious against Waldwick! 
"I was thrilled to score the winning run. This game was my favorite baseball memory by far," said Gugliemi.
The win brought Emerson to a 3-3-1 record, raising their win percentage to .500 and keeping them in contention for their main goal, the Bergen County tournament.

About the Writer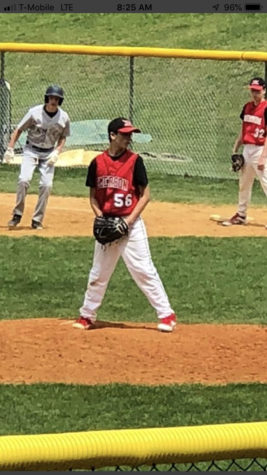 Daniel Amoia, Reporter
Daniel Amoia is a sophomore reporter from the Class of '21. He has written various articles that have touched upon a plethora of different subjects for...