The Making of a Competition Cheer Team
Hang on for a minute...we're trying to find some more stories you might like.
Alexis Aguilar is a senior and captain on the Emerson varsity competition cheerleading team. She has been on this successful team for the past four years and competed for her final season this past winter. There are many aspects to the sport Aguilar enjoys, some of them being making friendships and the positive dynamics of the team.
"Our team is extremely close and we had a lot of fun" she said.
The girls competed in four competitions this year, placing first at two of them, second at one, and third at one. The towns that hosted the competitions were Fair Lawn, Saddle Brook, and Hackensack. The cheerleaders perform a two and a half minute routine in front of cheer judges and a large audience. In those 150 seconds, the team must execute their routine and meet all the required elements while ensuring there is consistency throughout the performance. Every cheerleader must hit her mark.
"Our routine consists of jumps, a main stunt, tumbling, a cheer, baskets, a pyramid, all followed by a dance," she said.
Although the girls perfect the routine and make it look easy, there are a lot of difficulties that come along with the sport.
"The most difficult part of competition cheerleading is probably building enough trust in your stunt groups to try new and harder things. We practice three days a week (excluding competitions) in the auxiliary gym for around 2-3 hours".
At these practices, the girls stunt and run through the routine repeatedly in order to polish it up. The practices can be grueling, but the conditioning is necessary as it trains one to help build her stamina for performing and recovering in the routine. The hard work they put in pays off in the end.
As Alexis Aguilar mentioned, "The best part of being on this team is being a part of such a close family. It is a rewarding experience to win first place and see that all the practices and hard work that is put in pays off."

About the Writer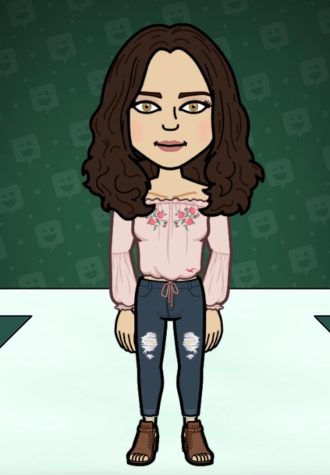 Marissa Colloca, Reporter
Marissa Colloca is a senior reporter for The Cavalier. She is a first-time reporter and enjoys writing for the paper. She likes to particularly write stories...