Stan Lee passes away at age 95! World mourns!
Hang on for a minute...we're trying to find some more stories you might like.
On Monday November 12th 2018 , comic book legend and true American hero , Stan Lee died at the old age of 95. Celebs all around the world turned to their Twitter and Instagram accounts to mourn and pay their respects to the passing of a true legend the best way they could. Stan Lee even got a online mourning message from the US Army and NASA!
"Rest in peace, Soldier! Comic book creator @TheRealStanLee has passed away at the age of 95. Lee served in the #USArmy Signal Corps during WWII from 1942-1945. We are deeply grateful for his service to our country and for his tremendous support to service members. #Excelsior!"  the U.S. Army tweeted
Stan died at the Cedars Sinai medical center in Los Angeles California , after being rushed to said emergency room earlier that day. The cause of death was listed as pneumonia.
Stan Lee is responsible for many great things , like creating a huge chunk of pop culture today and making stories and characters that touch hearts with all generation and ages of men and women across the entire globe. Stan Lee fought for Black and Women rights in the early 50s and 60s when most people would not.
Here at Emerson Jr/Sr High , many students and teachers have been affected by Stans loss , similar to many others around the globe , and have strong opinions on how his passing will not only affect many people at school but the world as well.
"
"I will be sad , I was sad when I heard the news and I am  still sad. What I think is important is the legacy he left behind.""
— Mr.Collins
"It will affect me greatly because he was a huge part of my childhood," said EHS Journalism teacher Mr. Collins. I was all about Marvel when I was younger and was a huge Spiderman, Fantastic four and Hulk fan. I even liked the lesser known characters he made, such as the Sub Mariner, which was the Marvel version of Aquaman. I even read the X-men way before It got so popular. So I will be sad. I was sad when I heard the news and I am  still sad. What I think is important is the legacy he left behind. "
Another student, Chan Riggins, said,  "He created some of my favorite works of fiction and I really got into comic books because of his inspiration and his devotion to society. It feels really sad we lost him because we imagined him as this immortal legend who will never die because he will always hold a special place in our hearts. "

About the Writer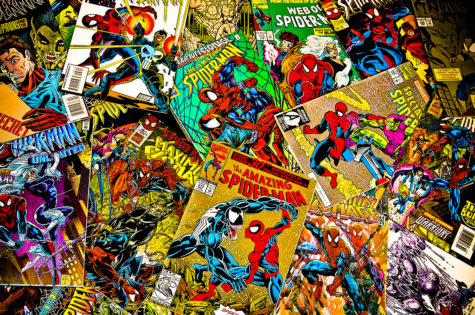 Cade Skoblar, Journalist
Cade is an reporter for The Cavalier. This is his second year reporting and he tries his best every moment of the job. When he is not taking interviews...