The Legacy of Emerson/Park Ridge Wrestling
Hang on for a minute...we're trying to find some more stories you might like.
Wrestling season is right around the corner and Logan Mazzeo, a wrestler for the Emerson /Park Ridge wrestling team, is hungry for vengeance. Logan has been training nonstop all his life and all he wants to do is go the distance and win it all to be Emerson's first ever individual state champion.
The team is returning from one of its best seasons ever last year with a 28-1 record. It ended up ranked 6th in the entire state of New Jersey, almost winning the school's second-ever state title. The team is looking very good this year because they got a lot of good starters back. The question is, can Emerson/Park Ridge go on another historical run?
"The team is looking very good, not as good as last year, but we still will do a lot of damage, still a powerhouse," Mazzeo said.
However, the team did lose a few key seniors last year who were state-ranked, but the team always finds a way to be successful, just as they have done over the past fifty years!
"Our team has 5 tough wrestlers: Luke Mazzeo, Zach Lewis, Jonah Schechtman, Nick Babin and myself included," Mazzeo explained.
Emerson/Park Ridge wrestling has a really good chance this year of putting multiple wrestlers on the podium. The last time that's happened was 1988, back when Emerson wasn't even combined yet with Park Ridge. And Mazzeo believes that this year they have a good shot at being state champions.
"My brother and I are gonna win states for them and Coach Woods," Mazzeo said, proudly.
Coach Stan Woods, the team's coach, holds the record for most wins ever. With well over 700 wins, he also has been coaching for over 50 years and has 1 state championship, which was achieved in 2016.
"Wrestling under Coach Woods and running out to 'Born to be Wild' before home matches is a dream come true," Mazzeo said. "Ever since I was born I've wanted to run out to 'Born to be Wild.' It feels like your flying. It's truly the best feeling ever." Mazzeo said.

About the Writer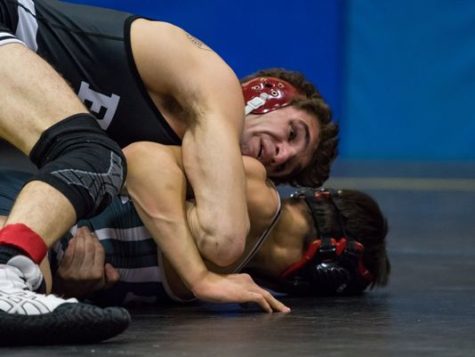 Luke Mazzeo, Reporter
Luke Mazzeo is a Senior who goes to Emerson Jr/Sr High School and is a reporter for The Cavalier. His favorite articles to write are about sports. While...