EHS cheer team brings their pom-poms to pep rally!
Hang on for a minute...we're trying to find some more stories you might like.
The EHS football team is 5-0 so far this season and the players are basking in the glow of their victories.
But what about the cheerleaders?
Here at Emerson Jr/Sr High school, the cheerleaders' hard work does not go unrecognized. Julia Merrill is a cheerleader for the Emerson Cavos football team. She is currently in her third year. She is very confident the team is going to have much success this year because of how amazing their dance choreography is and how much time they devote to practice.  This year she feels the season is off to a good start with the new captains and the new freshman.
"I think our captains are more involved than ever and our team is the closest it has ever been," she explained. "Everyone feels very comfortable with each other and this year the captains are really trying to give positive suggestions to our coach to better the team."
Not only have the cheerleaders been working hard to look good on game day, they have also been working hard in preparation for the pep rally, which is on October 5th at 2 P.M. This is a day when students show off their school spirit with games, decorations, and lots of noise. Merrill explained how the team really wished to do their full halftime routine at pep rally, but couldn't due to time limitations. Instead, the girls will perform a modified routine in which Julia thinks everyone will enjoy. 
"This is the first time we are performing the halftime routine in front of a crowd so I am a little nervous. But we have practiced really hard three days a week from 3 PM to 6:30 PM to get where we are."
Hopefully the pep rally will have a good turnout and that the cheerleaders keep working hard throughout the season!

About the Writer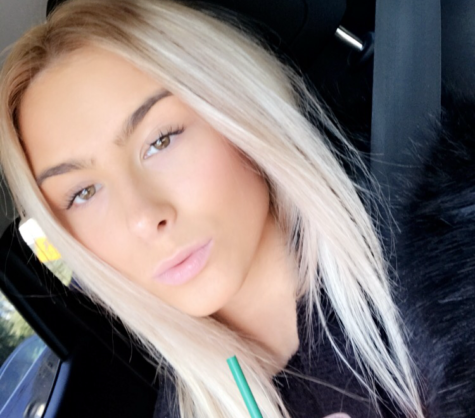 Hailey Lenino, Reporter
Hailey Lenino is a Junior at Emerson Jr/Sr High School student. This is her first year taking broadcast journalism and she is looking forward to hopefully...