Juul Isn't Cool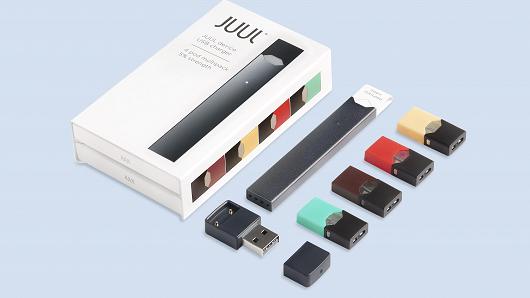 Hang on for a minute...we're trying to find some more stories you might like.
A vape was originally conceived as a "safer" alternative to cigarettes that was designed to help people quit smoking, but it has since transitioned into becoming an epidemic among teens. New CDC studies have concluded that over 16% of high schools students have vaped before and this number is likely to increase every year. Students have gone from occasionally vaping to bringing their vapes to school and selling them to other, often younger, students.
A vaping device called the "juul" is the most common device used by students. Many students use these products, but they don't understand the dangers that come with it. A juul "pod" contains glycerol, propylene glycol, natural oils, flavor, nicotine and benzoic acid. Nicotine is highly addictive and is known to cause health problems such as high blood pressure. When chemicals are heated they can affect the body in different ways and research shows it could cause cancer. It is not yet known what long term effects vaping will have on a person's body since vaping was first invented several years ago. Until more research is done and more time has passed, the dangers are unknown.
Mr. Brian Ponchak, an administrator at EHS, spoke about the issue and how it is impacting students.  
"The truth is, this isn't just an Emerson problem. The reason it's become more of an issue that we want to address is because we've learned so much about every high school in Bergen County and really I think it's a national issue. This stuff is being marketed where teens are falling into the trap of thinking it's not that bad and that they can get away with doing it in school," said Mr. Ponchak. 
He also went on to explain that although these devices might be safer than cigarettes they can still cause many health problems and could even cause death after long term use. He also emphasized that EHS is working closely with the Emerson Police Department to help stop the spread of this epidemic through negative consequences.
"They said, let's all work together in making sure we educate kids, educate parents, and try to put a stop to this by any means necessary."

Mr. Ponchak added that while drugs and alcohol may be used outside of school by some students, vaping is more commonly used on school property, during school hours. He urged students to consider the long term effects that vaping can have and that vaping can lead to experimentation with other harmful substances.