The Longest Ride – Book Review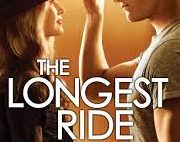 Hang on for a minute...we're trying to find some more stories you might like.
The Longest Ride, by Nicholas Sparks, is a romantic love story involving a set of characters with their own storyline. This book contains two different stories. Ira Levinson, ninety-one years old, becomes stranded in his car after swerving off the highway and crashing. While stuck in his car he reminisces about his wife who passed years earlier. On the other side, young Sophia Danko, who attends Wake Forest University,  had recently left an abusive relationship, when she met Luke, a bull riding champ.
While ninety-one year old Ira Levinson, is trapped between rails, he is suffering from severe injuries: he starts to become dehydrated and starts to reminisce old times. He starts to see Ruth, his wife who passed away years ago and they talk about their life together, the breakups, heartbreaks and marriage.
Meanwhile, while Sophia is dealing of problems of her own, dealing with outgoing roommates they all attend a sorority party. At the party she runs into her ex boyfriend whom she believed she left back in NJ. When Brian her ex boyfriend starts to put his hands on Sophia, Luke saves Sophia.
Ira and Ruth's story was inspiring and heartwarming, while Sophia and Lukes was intense finding out one of secrets almost broke them both apart. This will be a book you won't be able to put down!