EHS students share midterm study strategies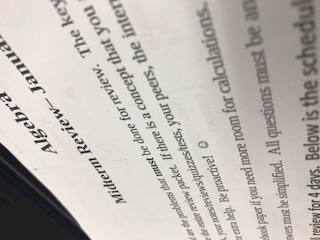 Hang on for a minute...we're trying to find some more stories you might like.
Midterms are right around the corner, starting on Tuesday, January 30 and ending on Friday, February 2. Emerson Junior and Senior High School students are beginning to prepare by studying. Students were asked how they prepare for their exams.
"I am reviewing my review packets and looking over my notes," Lianna Isakhanian said, when asked how she plans to review.
Molli Gordon, a freshman at Emerson High School, has been preparing for her midterms by creating study guides and Quizlets for herself. "I have been using Quizlet to study definitions," she said. "I've also been using study guides my teachers have provided for me."
Megan White, another freshman, is going to go in for extra help to get help from teachers for her midterms. "I am going to study every night and go in for extra help with teachers to prepare," she said.
Sneha Philip, a sophomore, has been studying a little bit every night. "Last year I crammed a lot," she said. "I was really stressed because of it. This year I'm trying not to make the same mistake."
If you have not started reviewing for midterms, make sure you start now so you do not end up cramming, and don't forget that Monday is an S-Day, so you will meet with all your teachers for review.